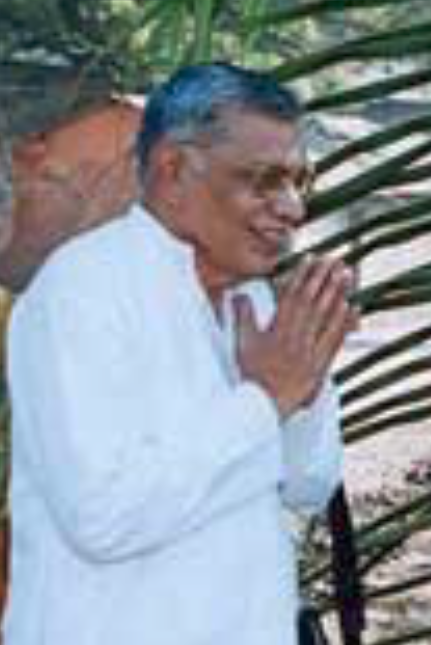 It is with great sadness that we announce the passing on Friday, September 3rd 2021, of the internationally renowned Vedic scholar, Dr Trivikram Narayan Dharmadhikari.
Dr Dharmadhikari served for over 35 years at the Vaidika Samshodhana Mandala (VSM) of Pune – first as research scholar under the guidance of the great Vedic scholars, Dr. C. G. Kashikar and Pandit N. S. Sontakke, and then as its Secretary and Director. Founded in 1928, the VSM is the world's premier institute dedicated exclusively to the publication of primary Vedic texts and explication of Śrauta ritual.
Dr Dharmadhikari edited many Vedic texts including the six kāṇḍas of the Taittirīya Saṃhitā and its Padapāṭha, along with the Bhāṣyas of Bhaṭṭa-Bhāskara and Sāyana, and became an expert in textual criticism and manuscriptology. He was one of the few modern Indian scholars to produce critical work on ancient Vedic texts.
Continually collecting and identifying rare Vedic manuscripts, Dr. Dharmadhikari published a three-volume work, Descriptive Catalogue of Sanskrit Manuscripts. At the VSM he also created India's first museum of traditional handmade utensils used in Vedic rituals, which he describes in his Yajñayudhāni: An Album of Sacrificial Utensils. Ever interested in learning more about Śrauta literature and practice, he sought out and gained from continuing conversations with traditional paṇḍitas such as Shrautacharya Visvanatha Shastri of Nellor and Pandit Joglekar of Gokarna.
Under his directorship, the VSM was recognized by the Rashtriya Samskrit Samsthana and became a major study center, drawing Indian and Western scholars of the Veda. At the same time, Dr. Dharmadhikari was closely involved with the oral tradition of the Vedas as guest speaker at important yajñas and as inspector of Vedapāthāśālas, where he was known and admired for his active encouragement of teachers and students. Scholars and Vedic practitioners admired his deep and precise knowledge of both how and why Vedic rituals are performed.
Dr. Dharmadhikari held numerous positions in organizations in the fields of the Vedic and Sanskrit studies, and was vice-chairman of the Vedashastrottejak Sabha in Pune. He received several awards from various Vedic organizations throughout India, and in 1999, was honored by the President of India with the Rashtriya Pandita award.
After retirement, Dr Dharmadhikari became the founding Head of Faculty in India for the Muktabodha Indological Research Institute, to which he gave much-valued encouragement and advice throughout its important early years. Dr. Dharmadhikari was associated with Muktabodha right since its official founding in 1997 and had been deeply involved with the process of imagining and developing plans for it. In fact, the Muktabodha Indological Research Institute was founded, in part, to help preserve just such knowledge gained by scholar-practitioners.
His Kātīyeṣṭi-Dīpakaḥ, a modern translation and commentary on the Kātyāyanapiṣṭi-prayoga, an explanatory manual, or paddhati, composed by Devayājñika on the Kātyāyana-śrauta-sūtra, is published by the Muktabodha Indological Research Institute. (See Publications page on this website.)
With his passing almost an entire generation of eminent Sanskrit scholars of Pune has gone into history. We mourn this great loss. "I know many will join me in saying that Dr. Dharmadikari was a scholarly gentleman in all respects: deeply knowledgeable, erudite, dignified, gracious, generous, and supportive of others. Although he will be deeply missed, his scholarship will long continue to inform, guide, and inspire others", said Dr William Mahony, Founding President and Chairman of the Board of Directors of Muktabodha.